Shdugra Waterfall
If you plan to explore Svaneti you should not miss Shdugra waterfall – the tallest waterfall of Georgia. Marked path starts from Mazeri village in Becho community, Svaneti (village is located on the road to Mestia).If you have more time you can even hike till Ushba glacier. On the road you can enjoy beautiful pine forest, views to Ushba summit and beautiful  river gorge. Its a river flowing from Ushba summit! Unbeliavably beautiful to watch.
Things to do at Shdugra Waterfall
The area is perfect for camping, even with kids, pine forest and river and gorgeous views, perfect for barbeque, There is even hikers cafe for relaxation and "beach" at the start of 4km trial to the waterfall. Besides, the area is perfect for horse riding. In Svaneti Shdugra waterfalls area is one of 2 most famous horse riding destinations along with Shkhara glacier horse riding. You could make it by horse to the bridge where border guards are.
From there getting to waterfall is very easy. Then you can ride back in the beautiful forest. In case of kids, you can ask local horsemen to have separate horsemen assisting your kid. If for kids the route to waterfalls is tiring, you could just ride from Grand hotel Ushba to Hikers cafe, across the bridge and back – on the both sides of river and it will be flat picturesque and enjoying horse ride in beautiful and wide valley of Mazeri which reminds me some areas of Alps and Kyrgyzstan mountains in Karakol area.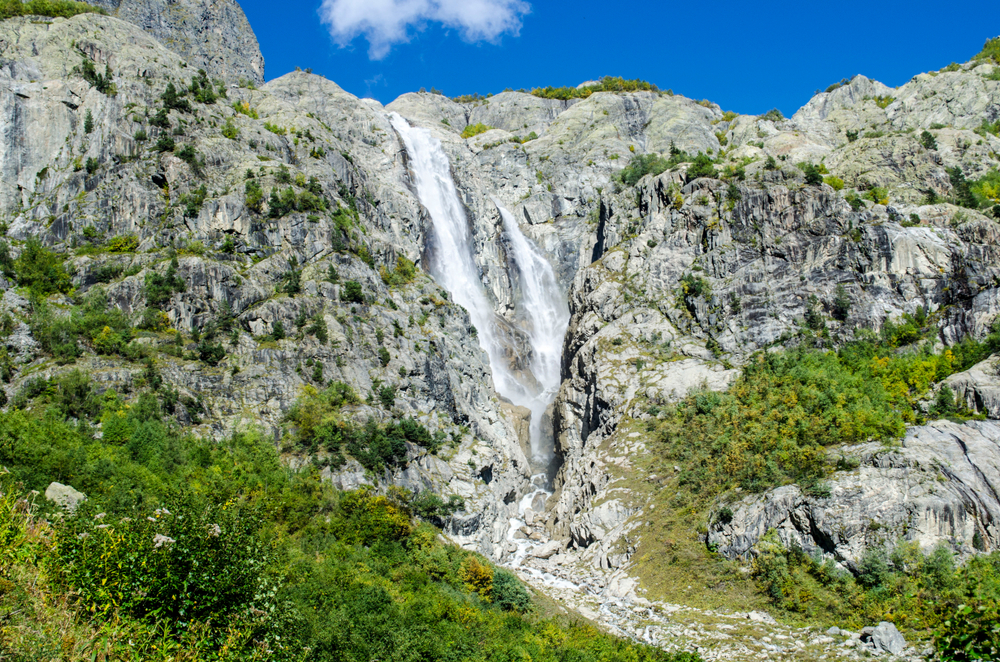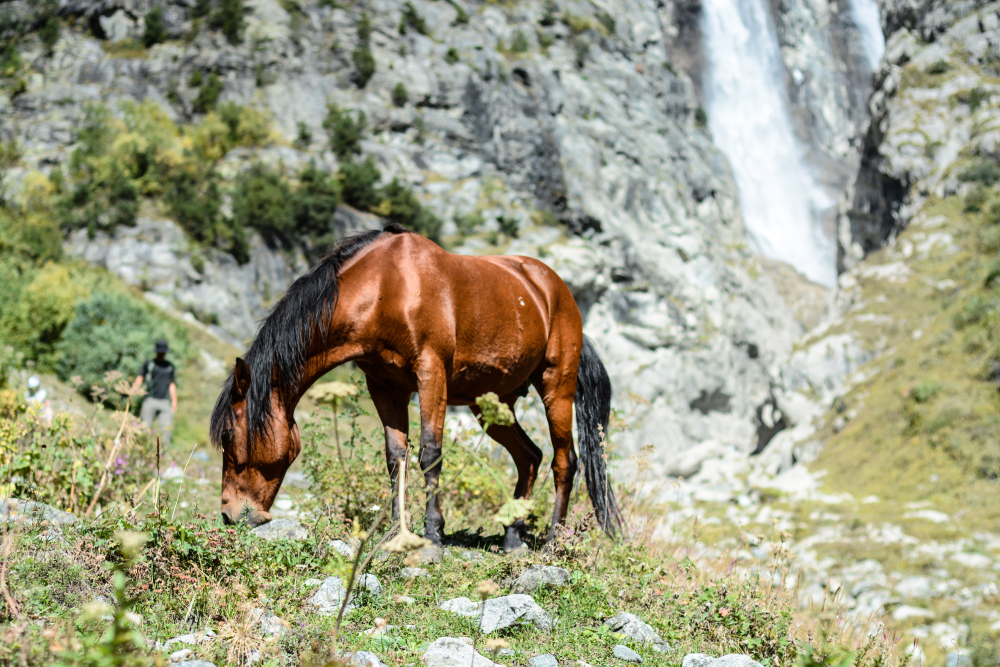 How to get to Shdugra Waterfall
There are 2 ways to reach the waterfall.
Longer and more beautiful route to reach Shdugra Waterfall
It starts at Grand Hotel Ushba, crossing the bridge over the river Dolra left from the hotel. The path passes mineral water springs, small church with picturesque location, beautiful meadows, then ascends slowly in the path of beautiful pine forests until it reaches the border post from where the last ascent starts.  You need to have your passport as sometimes border guards request it.
The trip is 7km long and takes around 3-4 hours one way. The waterfall can be reached both from the top and for the bottom view. I really enjoyed the latter one. You can not fully approach it as it creates permanent rain, wind and rainbow. For the gps track please see. (camping place- near Grand Hotel Ushba, you can also pay for hotel or for taking a shower).
Shorter and standard route to reach Shdugra Waterfall
Newly cut road on the right side of the river shortens the path by around 3 kilometers. So you just need 2 hour walk to the waterfall, crossing the bridge and starting your ascent from where jeep trail ends. Just before the bridge there is a camping place, behind abandoned building, but it's harder to find spring which is hiding behind forest. At least across the bridge there is a spring easier to find. (You can see the gps track below).
Hikers Inn Cafe in Mazeri
At the start of 4km route to the Ushba glacier/waterfalls there is Hikers Inn cafe which is located in the beautiful nature. Nearby there is small lake and great camping sites where you can take sunbath and swim in a cold water, eat some snacks before or after the hike or try a fresh trout.
Hike to Ushba Glacier
If you have time and want to hike more you can continue steep ascent near the waterfall and hike to Ushba glacier.  For 1 way you will need  3km more hike and much harder path, more ascent and 1.5/2 hours more time. Border guards may not let you to go beyond waterfalls.
In case of rainy weather watch out of slippery path and rocks on your way. At the end, in case of good visibility, you will be rewarded  with great views of Ushba summit as well as other peaks (with a height of over 4,000m) around it.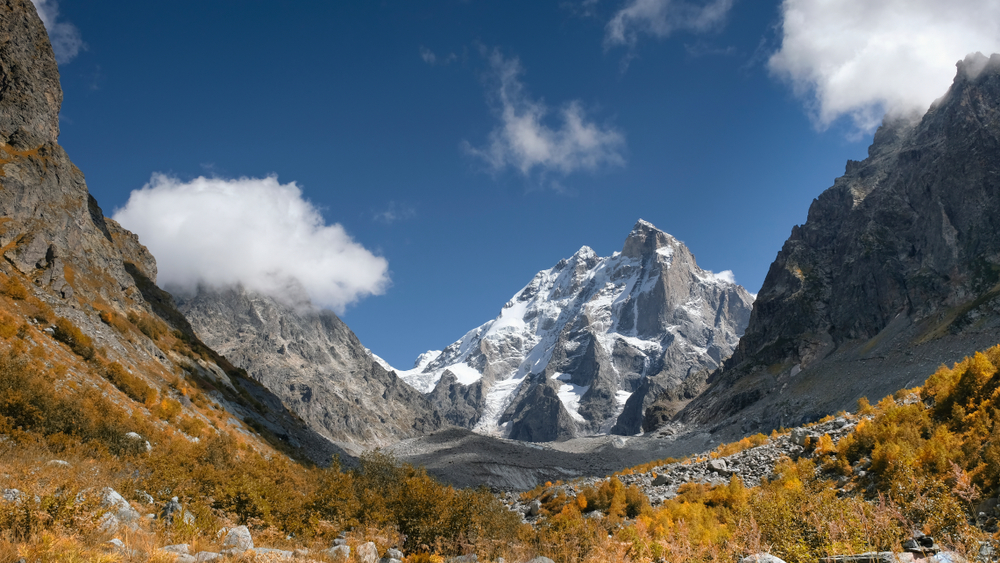 How to get to Mazeri, Svaneti
You can stop marshutka from Tbilisi/Zugdidi to Mestia on your way near Mazeri. Then take taxi/walk/hitchhike to the start of the trail which is around 12-15km from the turn. Alternatively you can take a taxi from Mestia too or you can hike from Mestia through Guli pass.
How Mazeri fits into Svaneti travel itinerary
Mazeri is undoubtedly nice starting point to explore the area.  If you prefer dayhikes, Sdhugra waterfall and Mkheri can be nice option to start exploring Svaneti, continuing with hikes of Mestia area such as Chalaadi glacier. But if you are more into trekking, then Ushba glacier hike (including Shdugra waterfalls) + Guli pass cross to Mestia (visiting Koruldi lakes on your way) is a nice start combined with Lahili Glacier Trek can be wilder and worthy alternative to Mestia-Ushguli Trek if you have a camping gear with you and don't prefer to sleep in the villages. 
Other Hiking Routes in Mazeri Area
You can cross the Guli pass to Mestia and on the way you can visit Koruldi Lakes. You can view the gps track below. Also, you can hike to Mezeri mountain from the bridge near Grand Hotel Ushba, but its better in this case to start from Etseri and do Etseri-Mazeri hike and continue to Mestia via Guli pass.
You can also hike to Lemeli mountain which is 2461m above the sea level and enjoy great views toward Ushba. However, if you are not a fit you could do shorter hike to Guli archangel church built in 9th-10th century
Guli Pass Trek
Guli pass Trek can be done from Mazeri preferably in 2 days. It is also can be done in 1 day too if you are short of time and don't prefer to camp in the mountains.You can see the gps track below and description of the track can be found here.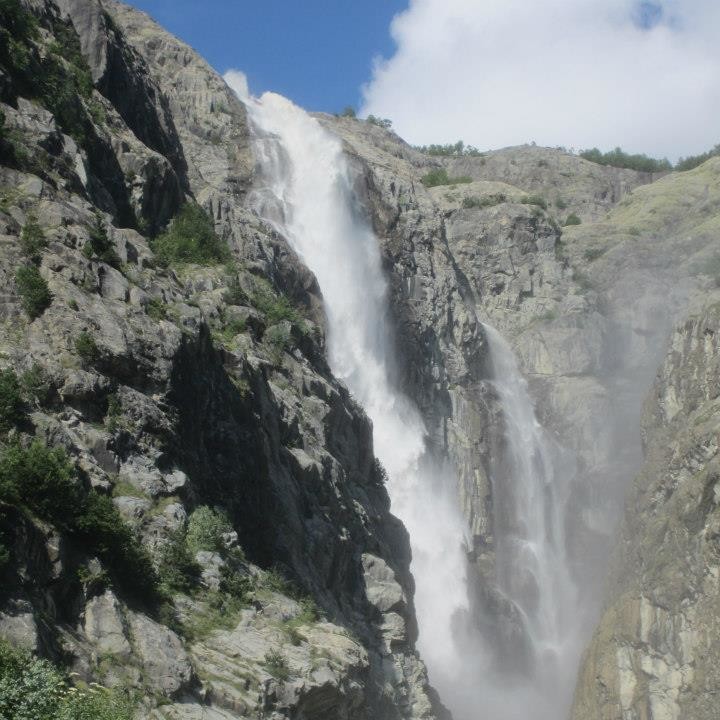 You can watch the video for Shdugra waterfall:
You can see the gps track here:
For the gps track of Guli pass from Becho to Mestia please see:
Facebook Comments